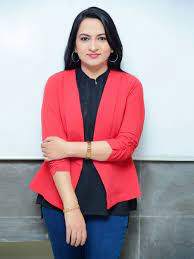 Shipra Sharma Bhutani
Shipra Sharma Bhutani was born in Mumbai. She lost her father when she was just 10 years old. Her shefoughtback journey starts in 2006 when she had one incident which made her do something bigger for Women. That was the turning point in her life. She is the Founder and Director of two companies, Jaganraj Professional Studies, NSDC funded training partner, and Capacity Connect – NSDC innovation partner
She studied at Birla Balika Vidhya Peeth, Pilani. She was an all-rounder in her school. She is known for uplifting people in need such as upskilling prisoners, army widows, and war-affected women in Afghanistan to lead a normal life. "Success and Happiness is achieved when something inside us is much more positive than all the negativity outside " This is the life mantra of Shipra Bhutani.