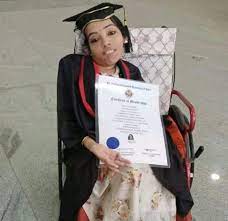 Preethu Jayaprakash
Preethu Jayaprakash; a newly qualified Chartered Accountant from Kerala. Her #shefoughtback journey had begun even before her birth. She had an elder brother. When he was 6-months old, her parents noticed that he had been unable to achieve certain growth milestones. When they consulted some doctors, they said there was nothing to worry about and that he would be better in some time with some physiotherapy sessions.
Seeing him alone, her parents thought of having a second child, so that his little brother or sister would take care of him, and he wouldn't be alone. But she came into their life like a tsunami.
When she was born, she was a normal baby. But just like my brother's case, my parents noticed the same symptoms in me too. Then it was a non-stop movement from hospital to hospital.
She was born and grew up in a small village in Kerala. It was difficult for her mother to send her children to school every day. So, she had to do all my schooling and college studies including the CA course from her home itself. She had home tuitions. But she had fought the battles and made her parents proud by becoming a CA.