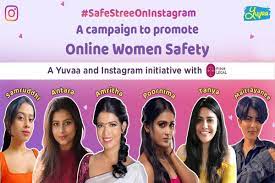 Instagram launches 2 campaigns in India.
Instagram launches 2 campaigns in India to help youngsters be safe online, they are 'Safe Stree' and 'My Kanoon'
On November 10th, 2021 Meta-owned photo-sharing platform Instagram has announced new campaigns to spread awareness about the safety features, and the "legal rights and protections" that are available on the platform.
To help young people, Instagram has announced 2 campaigns which are Safe Stree and My Kanoon. 'Safe Stree', which will spread awareness about the safety features available on the platform, and 'My Kanoon', which will inform them about the legal rights and protections available to them.
The 'Safe Stree' campaign on Instagram has been launched in partnership with Yuvaa, to understand women's rights and laws, the campaign is to challenge gender stereotypes and create a safer and kinder online space for women. This campaign will last for a month and will unfold in two parts, 30 reels would be published in this series by a diverse set of six creators, including Amritha Suressh, Antara Naina Roy, Majumder Poornima Ravi, Maitrayanee Mahanta, Tanya Appachu and Samruddhi Patil in their own native languages. This will go live via the respective creators' Instagram accounts.
In partnership with Nyaaya, and We the Young, Instagram will also be running a 'My Kanoon' campaign to "simplify and explain the laws to young people." Instagram said, "Along with Instagram's safety controls, this will equip them and their caregivers to take informed legal action and interact with justice systems."
"Young people in India use Instagram to safely express themselves. While we continue to innovate with our product, we also wanted to create awareness locally about the way our community can feel safe online," Head of Policy Programs and Outreach, Facebook India, Madhu Sirohi said.