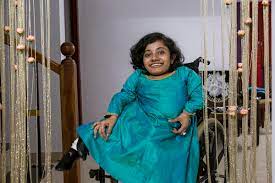 Dhanya Ravi
Dhanya Ravi is a wheelchair user, her shefoughtback journey started when she was diagnosed with Osteogenesis Imperfecta (OI), commonly known as brittle bone disease at a young age. She has suffered more fractures than the number of bones in her body.
She currently lives in Bengaluru and is a writer, motivational speaker, digital marketer and social worker who also runs an NGO called Aasman Foundation.
Dhanya is passionate about raising awareness about the disease and helping those in need, despite her condition and the constant visits to the hospital. When the Amritavarshini Charitable Society was started by Latha Nair, which was India's first NGO for people affected by osteogenesis imperfecta, she played a major role in creating awareness about the disease through public speaking, news shows, and interviews. She also advocates mandatory genetic testing of pregnant women for early diagnosis to facilitate rehabilitation. There's no permanent cure for OI and it's one of her wishes to bring in a policy where doctors make screening for genetic diseases mandatory right at the early stages of pregnancy.