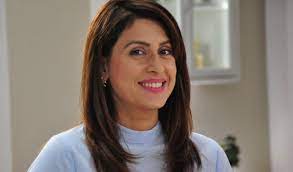 Amrita Raichand
Amrita Raichand is a lifestyle chef, tedex speaker and writer. Her shefoughtback journey starts when she fought with her own fear. Her story starts on 26th November she had her birthday and on that day she decided to go to Taj for celebration. Her son was just 1 year old so she was skeptical to not to take him with her, but her family insisted so she agreed. But after some time she thought she should have listened to her gut.
They entered the hotel at 9 & went to their friend's room for drinks. As they were settling in, they heard what sounded like fireworks. She said, 'The whole city is celebrating my birthday!' After 15 mins, they heard the sound again, but this time it sounded like gunshots. What she saw from the window shocked her, bodies were being rolled out. When they called the receptionist, they asked them to stay put. And so, they did. She heard screams, people being dragged & gunshots. They switched off the lights & put phones on silent. But even the silence was thunderous.
There was a 2nd blast–the dome was on fire & they were engulfed in smoke. They wetted the towels & put them by the door. They even tried breaking open the window, but in vain. Night turned into morning, & they were still there…breathing smoke & losing hope. And then they heard a fire brigade they flickered the light & thankfully, they saw them! The fire brigade somehow broke open our window. It took them an hour to climb down the rope it was excruciating. But they all made it! The morning of 27/11, when she got back home, she held her son in the tightest embrace. But the trauma of that night stayed with her. Any sound of firework still terrorizes me. But next year, on her birthday, on 26/11, she faced her fear–she went back to Taj to celebrate! And that day, it wasn't just her, it was everyone celebrating the comeback–the staff, the guests, all of them. And ever since, it's been a ritual. Every 26/11, she say a prayer for all those we lost & then in the evening, head to Taj to celebrate those who fought & triumphed their terror!