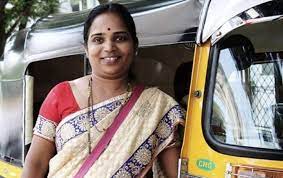 Shila Dawre
Shila Dawre, the First Indian Woman to Become an Auto-Driver as early as 1988. Her Shefoughtback journey starts from at the age of 18 when she decided to leave her parental home in Parbhani district to go to Pune, all she had was Rs 12 in hand and passion in her eyes to chase her dreams. She was successful in shutting out all the stereotypes and became India's first woman auto driver.
Her dream began in a social setting where almost all Indian women were given basic education, just to be married off and serve the conventional roles of homemakers and child bearers. But she, being the rebellious girl that she was, wouldn't let marriage come in the way of fulfilling her dream of driving. She said, "I wanted to make it my profession. My parents initially objected to my decision, but now they have accepted me for who I am."
She established herself in a male-centric profession and fought through the obstacles and boasts of having driven for over 13 years.