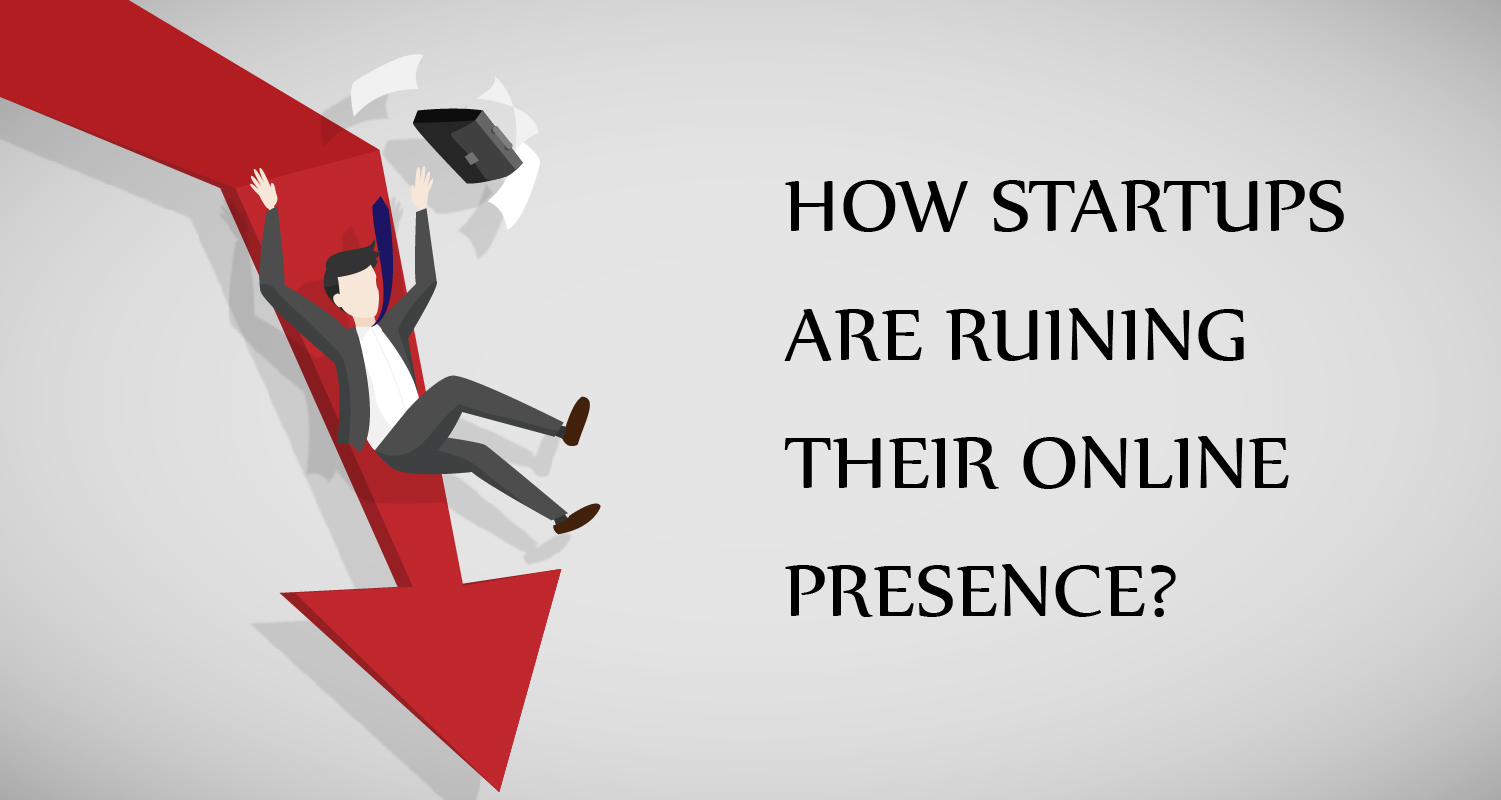 HOW STARTUPS ARE RUINING THEIR ONLINE PRESENCE?
Most startups' end motive is to grow not just financially but to also grow their physical assets and intellectual properties as well.
Technology is the current and foreseeable future, through which startups can compete against big corporations. With subtle advancements in technology but also how consumers intake their content because of it, has changed the way how companies are approaching their target audiences.
Some startups make it their priority to focus on improving their SEO rankings so to bring up their traffic, but many startups still fail to understand the importance of a good SEO ranking and how it costs them the traffic it needs which in turn would help their venture in the long term.
Here are five points which we believe have ruined the online presence of startups:
Focusing on short term goals
Startups usually focus on the idea of having short term goals for immediate benefits. While the general thinking is that, the need to worry about long term goals comes way later. When the startups feel like their concept has turned into a successful product.
Although, the idea of living in the present is important. It is as important to focus on future goals, and how you will proceed to get there.
It should be like making a flavourful curry. Slowly simmering for long hours so that it infuses all the flavors of spices. Rather than a quick shuffle of ingredients, for a few minutes in high heat.
Same goes for research, content marketing & SEO ranking which is a very important aspect for almost every
business enterprise. One cannot do it instantly and accept to reap the fruits, it needs time.
Not improving the SEO rankings organically
The word SEO is used by many startups and veterans alike, without really understanding how it really works.
Many write content according to the norm, for example- keeping it inside 300 words. But it should attract your target audience's attention as well.
To penetrate the SEO rankings, startups should exploit each platform of social media to gain more views on every platform.
This in turn will help improve the SEO ranking for your main website. With more people being exposed to your work by searching the keywords related to your work.
The CPC for important keywords is very high nowadays. Most startups can't afford to pay that much for longer periods. Besides, consistency is the key, right? So, if startups can manage to improve their SEO ranking organically, then all the remaining funds wisely. With money being spent on PPC, used for something else.
Overlooking the competition & their content marketing strategies
If a startup is to stay successful in the market, they need to understand their market which includes the competition.
When we talk about competition, that doesn't just mean, who they are…. But also what kind of strategy they are using to gain views and improve their SEO rankings.
How many posts in a week are they making? Which keywords are they using? Which posts are generating the most views? How many words on average do they use?
It is important to stay up to date with current trends and strategies. This helps startups in staying relevant in this market. If the competition is successful, then there must be thought out strategy behind it.
Putting the focus on self-centric content
Another thing to understand is that your audience simply won't be attracted to content about your own products and services. Rather the content should vary to attract different viewers to your blog.
Although it makes sense that the content somewhat revolves and remains related to what your startup is all about. Content should always have a ratio of 80:20, with 20% being the promotional material that the startups want to publish.
Startups should accept the fact that when a person is checking your blog, it is certainly for their own interest. Hence, the content should also be focused upon the interests of the viewers, so as to increase the SEO traffic.
Startups should research about their target audience, their likes, and dislikes. By putting the consumer and their needs first traffic can be increased for the blog.
Most startups don't have the budget to pay for PPC. Still, they make the mistake of paying anyway, to give them a supposed "push start".
Most of the times, they end up failing their audience since their focus is not on research backed content. As it helps find the relevant keywords and topics that their audience could relate to. Thus, the content is quickly forgotten by their audience with almost no backlinking by other sites.
Not Putting The Effort On Strategizing Their Online Content
Be it your dinner or a business venture, time should be given for apt preparation.
Through a good functioning strategy, startups can plan their steps one at a time. While a good content marketing strategy should help them further in seeing the growth digitally.
Mostly, we see startups starting a blog because every other startup has them. They don't see what a blog can do for their online presence. It brings in much needed traffic, as the new generation is getting their information by being online.
Remember, since this helps increase the SEO ranking. It will be much easier for the viewers to reach you through simple keywords and thus help improve the business.