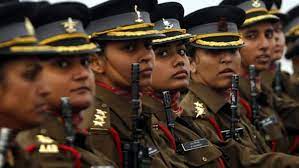 After Supreme Court warning, Indian Army agrees to grant permanent commission to 11 women.
On 12th November 2021, The Central government agreed to grant permanent commission (PC) to 11 women Army officers who meet the eligibility criteria, after the Supreme Court threatened to initiate contempt proceedings.
Justice D Y Chandrachud, heading a two-judge bench, said, "The Army may be supreme in its authority, but this constitutional court is also supreme in its jurisdiction. We gave you a very long rope." The court said "We appreciate the fair stand of the Army authority in putting at rest all outstanding issues pertaining to women SSC officers."
According to the reports, the additional solicitor general, appearing for the Army, said that not just 11 of the 72 officers who had approached the Supreme Court seeking permanent commission this year but all the eligible applicants will be granted permanent commission.
The bench, which included Judge A. S. Bopanna, have heard plea filed from women officers for ignoring the action against the Army for not granting them permanent commission, even after the court's ruling on March 25, this year. In March, the court ordered the army to issue a permanent committee if a women SSC officer obtaining 60% of the score on the evaluation course, being found medical fit, and having received disciplinary and vigilance clearances.
Last year on 17th February 2020, in a landmark verdict, the top court had directed that women officers in the Army be granted a permanent commission, rejecting the Centre's stand of their physiological limitations as being based on "sex stereotypes and "gender discrimination against women".